A Bed & Breakfast / guest house on the edge of Tyndrum village and set away from the main road, offering a peaceful setting and a quiet night's sleep with local amenities only a couple of minutes' walk away.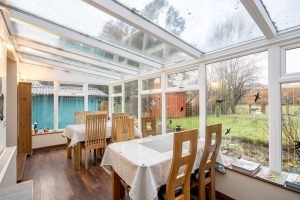 Clifton Cottage B & B is situated right on the West Highland Way.
Clifton Cottage Bed & Breakfast is non-smoking throughout but does offers outside smoking areas, there is ample Free parking.
Coming to Clifton Cottage should be a special experience, where you can go walking, cycling, driving or simply find a peaceful place to relax.
We welcome all guests and provide a friendly and comfortable guest house that is situated on the West Highland Way long-distance walking path in Tyndrum.
Relax in The Cabin: The cabin has a 48 inch TV, stereo system, over 400 DVD's and various musical CD's and made available to guests should they want to use it
Tyndrum
Scottish Gaelic: Taigh an Droma
Tyndrum is a small Scottish village situated 5 miles north of Crianlarich in the heart of the hill walking country around Glen Lochy. It is an important transport staging post in the region. The main A82 road divides just north of the village with the A85 heading west to Oban, and the A82 heading for Fort William via Glen Coe. The railway divides south at Crianlarich, though the two branches run in parallel to Tyndrum: it's only a short walk from Tyndrum Lower Station (on the Oban line) to Tyndrum Upper (on the Fort William Line).
The village offers three eating places, TJ's which is an American Diner, The Real Food Café, renowned for its fish and chips and Tyndrum Inn which is the local hotel offering a great menu and a variety of drinks
The village also has a post office and groceries at Brodies, a further eating place, gift shop and petrol station at the famous Green Welly Stop.
There are two train stations, the lower which goes to Glasgow or Oban and the Upper which goes to Glasgow or Fort William / Mallaig (ScotRail.co.uk)
Overshadowed by Ben Lui, a Munro, Tyndrum is built over the battlefield where Clan MacDougall defeated Robert the Bruce in AD 1306, and took from him the Brooch of Lorn.
The bed is soft, and the breakfast is delicious. Grandmom and grand papa are so kind to host us. Wonderful trip.
Chienming - Taiwan
Very friendly and welcoming. Couldn't have been more helpful. Watching birds in the garden was very nice. Cups of tea were excellent.
Sue - UK
This is an excellent and good value bed and breakfast. The room was small but had an ensuite and everything that we needed. The breakfast was pretty good in the morning too. What really made it excellent though was the owners. They were really lovely. They even did some washing for us! A great place to stay if you are walking the west highland way.
Jenny - UK
Hosts are extremely welcoming and very helpful. Provided free washing service and drop off for WHW. Great location near Tyndrum Inn and The Green Welly.
Susan - Australia
Reasonably priced alternative to Fort William, later check in than a lot of B&Bs, great breakfast, comfortable room, friendly hosts.
Kristi - USA
A warm welcome from our hosts when we arrived after a wet day's walking on the West Highland Way. The room was very comfortable, a variety of complimentary refreshments and a hot shower. A good night's sleep in a comfortable bed all followed by an excellent and generous breakfast. The biggest bowls of porridge we had ever seen along with a tasty cook breakfast of our choice. All truely excellent stay. Plus our wet boots had been dried for us. Thanks Highly recommended.
Trevor T
We arrived at clifton cottage on the last day of the West highlands way walk. This was an outstanding place with the most amazing hosts who could not do enough for us. Nothing was too much trouble, they are kind and caring and enjoying sharing their beautiful home with guests. Breakfast was fantastic, tasty and plentiful with quality ingredients. We slept so well in comfortable beds listening to the silence of the beautiful surroundings and left with full tummies. A beautiful place with beautiful people. We will be booking again.
Ann B
I will simply say this is the only place to stay if you are in the area, everything you need is at your doorstep, wonderful couple Tam & Carmen rooms have everything you could ask for & more, stunning views, don't read the negative reviews as them normally come from negative people……., the breakfast was amazing, I left full with love and a full belly, thank you !!!!! and I recommend everyone reading ……. this is heaven !!!!!!!!!! will be back again !!!!!!!!
Ceejay S